Finally built a standing desk
By Justin on February 1, 2020
---
After a semester in grad school, I am feeling well-settled into the lifestyle of an armchair biologist. But obviously, I find myself sitting a lot. Sitting still for long periods of time is neither healthy nor fun, but it is part of the package of academia.
Most of us know a few people with insane standing desks that practically levitate to the perfect height and have tons of bells and whistles. But those things tend to be expensive. So googling 'DIY standing desk' brought me to one useful IKEA-based guide that I decided to try this January.
The basic ingredients were:
While the brackets were marked down in my IKEA in St. Louis, using current IKEA website prices, this comes to $27.48 USD, which given ~5 years of expected exposure time to potentially unhealthy sitting, seemed like a worthwhile investment.
I like the way it turned out, even though it ended up being a front-heavy. But with the monitor on top it never moves. Since putting it together, I have added some wrist padding and a laptop stand to prop up my laptop.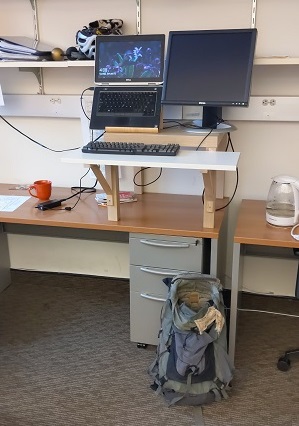 All in all, I would totally recommend it. (I am actually writing this in quarantine at home in March and wish I taken it out of lab).